Proline Prowirl D 200
Vortex flowmeter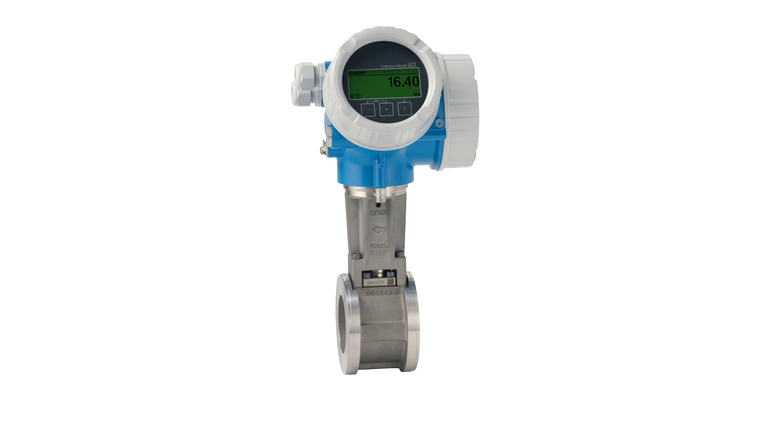 Cost-effective wafer flowmeter, available as compact or remote version
The Prowirl D sensor can be installed directly between flanges and thus serves as the functional device for applications in ancillary processes at little installation cost. With genuine loop-powered technology, Prowirl D 200 enables cost-effective and seamless integration into existing infrastructures. It offers highest operational safety in hazardous areas. Heartbeat Technology ensures process safety at all times.
快速选择
从我们建议的选项中选择
个性化配置
从所有可用选项中继续选择
优势

Integrated temperature measurement for mass/energy flow of saturated steam

Easy alignment of the sensor – included centering rings

High availability – proven robustness, resistance to vibrations, temperature shocks & water hammer

Long-term stability –...
应用领域

Preferred measuring principle for wet/saturated/superheated steam, gases & liquids (also cryogenic)

For all basic applications and for 1-to-1 replacement of orifice plates.

Device properties

Face-to-face length of 65 mm (2.56 in)

No flanges

Low weight

...
附件/备件
Nr

40

Order code

XPD0024-

Display module, SD02, push buttons

For housing: GT18, GT19, GT20. Usage: FMP50/51/52/53/54/55/56/57, FMR50/51/52/53/54/56/57, FMR60/62/67, FHX50. Promass 200/TB2, Prosonic Flow 200, t-mass 150, Promag 200, Prowirl 200. Consists of: Display SD02, helix cable, ribbon cable, connector cover.

Nr

40

Order code

XPD0025-

Nr

25

Order code

71185516

Nr

25

Order code

71110301

Nr

25

Order code

71110302

Nr

25

Order code

71185517

铝盖

Material: aluminium. O-ring EPDM, PTFE coated. Usage: terminal compartment, for overvoltage protection, not for Ex d/XP, FMP50/FMP51/FMP52/FMP53/FMP54/FMP55/ FMP56/FMP57, FMR50/FMR51/FMR52/FMR53/ FMR54/FMR56/FMR57, FMR60/FMR62/FMR67. Usage: Promass 200, Prosonic Flow 200, Promag 200, Prowirl 200.

Nr

65

Order code

71110303

外壳密封套件

Consists of: O-ring 88.5x3.53 EPDM/PTFE, cover electronics compartment, housing GT19. O-Ring 88.5x3.53 NBR, cover electronics compartment, housing GT18, GT20. O-ring 91.67x3.53 EPDM/PTFE, cover terminal compartment, housing GT19. O-Ring 91.67x3.53 NBR, cover terminal compartment, housing GT18, GT20. O-ring 50.39x3.53 EPDM/PTFE, housing/sensor. FMP50/FMP51/FMP52/FMP53/ FMP54/FMP55/FMP56/FMP57, FMR50/FMR51/ FMR52/FMR53/FMR54/FMR56/FMR57, FMR60/FMR62/FMR67. Usage: Promass 200/TB2, Prosonic Flow 200, Promag 200, Prowirl 200.

Nr

19

Order code

71115175