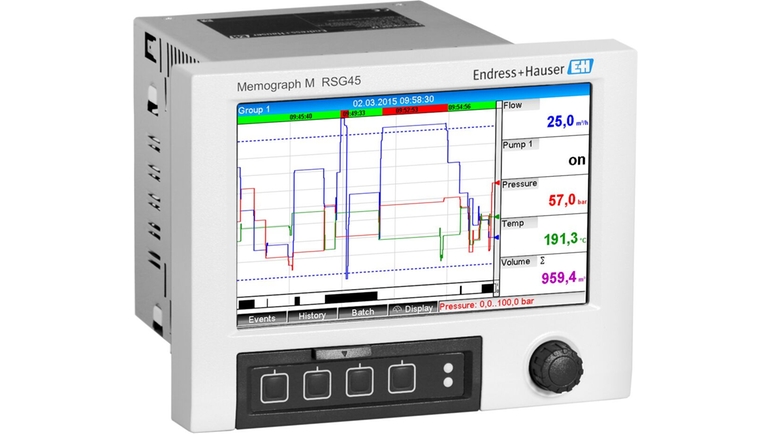 快速选择
从我们建议的选项中选择
个性化配置
从所有可用选项中继续选择
优势

高数据安全性:防篡改的数据储存单元和带电子签名的个性化访问权限设置(FDA 21 CFR 11)

HART输入卡:直接连接HART传感器,提供准确过程值,用于计算和记录

HART网关:使用Memograph M,无需中断测量回路,即可通过FieldCare直接访问现场的HART传感器,节约时间

不锈钢前面板,触摸键操作:在苛刻工况条件下无故障操作,例如:卫生型或危险区应用。

DIN 导轨版本:一体式,小尺寸,适用于机柜安装或远程现场应用。

系统功能:支持通用现场总线(Modbus、Profibus DP、...
应用领域

各类任务解决方案:例如:

过程测量技术

电厂和能源供给

蒸汽锅炉监控/能效计算

食品和制药行业

工厂和设备工程和建造;牛奶巴氏杀菌机

环境和气候测量技术;溢出控制

质保和生产

批量分析;电报功能

iTHERM TrustSens 校准监测

测试舱和实验室应用
附件/备件
Field Data Manager Software MS20

Visualization software and database for visualization of historical data like measured values, calibration or configuration. Manipulation protected SQL database, graphical visualization, tables for measured values, alarms or events, online help, user administration, Automatic read out of device data. Automatic data export in various formats or in secured format for backup or reduction of database. Note: The version FDM essential only supports RSG30, RSG35, RSG40 as well as RSG45 and has a restricted functionality.