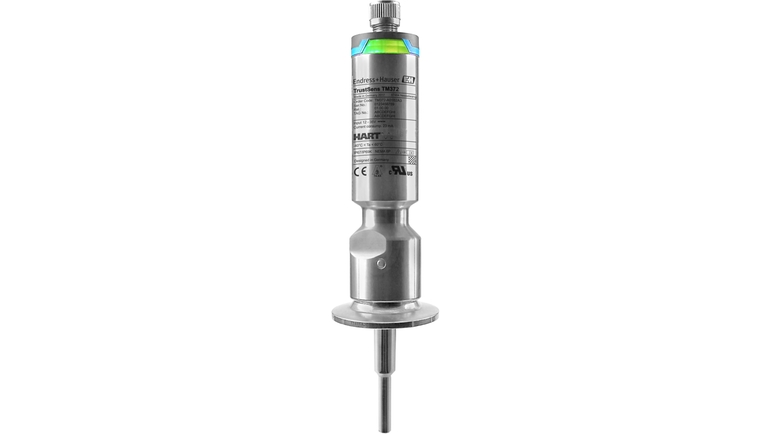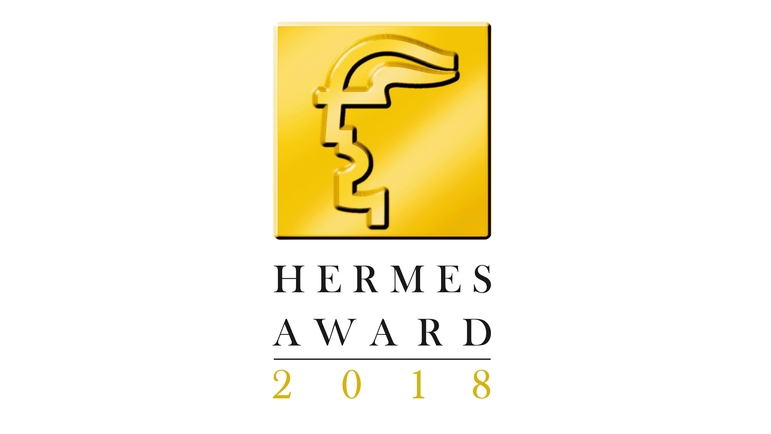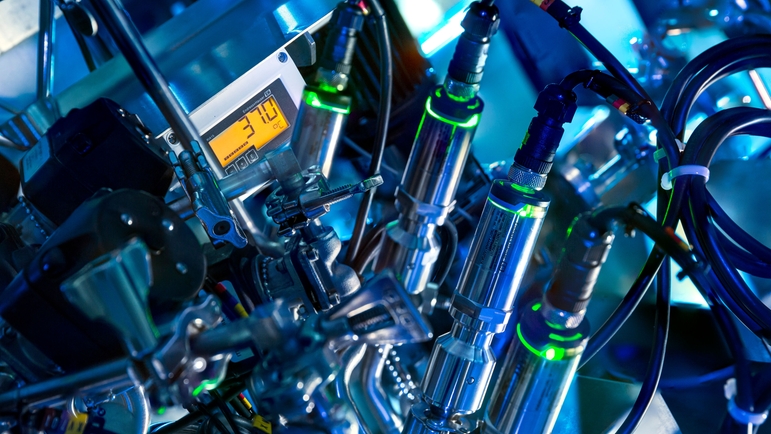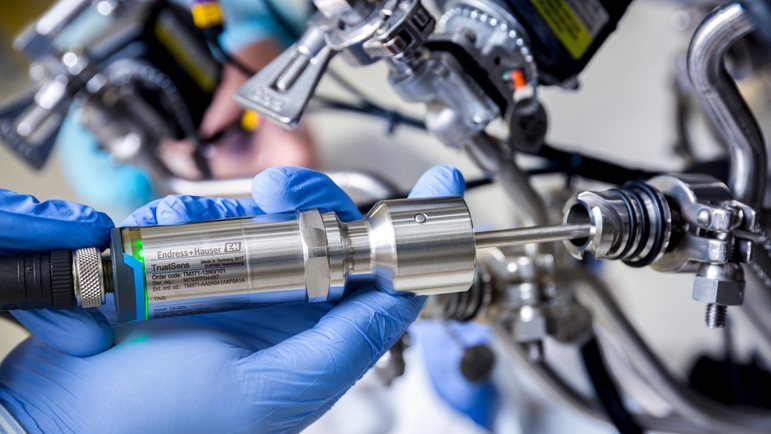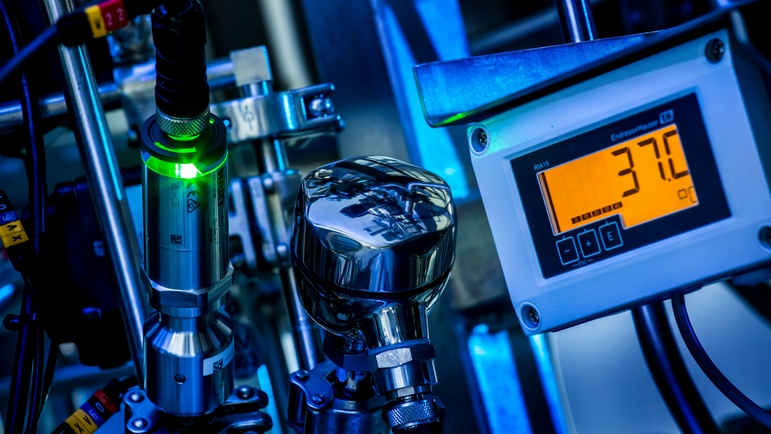 轻松确保完全合规 一体式卫生型 RTD 温度计
iTHERM TM371 智能温度计屡获殊荣,集成了 HART® 变送器和 Heartbeat Technology 心跳技术,配备了全球首款全自动原位自标定 RTD 传感器。它有效避免了食品饮料和生命科学行业应用中未检测到的不合规风险,缩短了生产停工时间,提高了产品安全性和工艺效率。该产品完全符合 FDA 21 CFR Part 11 法规和 GMP 标准。
| FLEX产品选型 | 仪表技术性能 | 选型便捷程度 |
| --- | --- | --- |
| | 仪表技术性能 | 选型便捷程度 |
| | 仪表技术性能 | 选型便捷程度 |
| | 仪表技术性能 | 选型便捷程度 |
| | 仪表技术性能 | 选型便捷程度 |
产品规格参数

响应时间

最大过程压力(静压)

at 20 °C: 40 bar (580 psi)

工作温度范围

PT 100:
-40 °C …160 °C
(-40 °F …320 °F)

所需最大插入深度
Loading alternative products
快速选择
从我们建议的选项中选择
个性化配置
从所有可用选项中继续选择
附加组件

应用领域

专用于食品和饮料及生命科学行业中的卫生和无菌应用

测量范围:–40...+160 °C (–40...+320 °F)

最大压力:50 bar (725 psi)

防护等级:IP67/68或IP69K

通信:4...20 mA HART®模拟量输出
文档/手册/软件
Weld-in adapter, process adapter and flanges

Level and pressure measurement

iTHERM TrustSens TM371, TM372

Compact thermometer for hygienic and aseptic applications
HART® communication

iTHERM TrustSens TM371, TM372

Compact thermometer with self-calibration
HART® communication

TrustSens Calibration Monitoring Operating Instructions

TrustSens Calibration Monitoring

iTHERM TrustSens TM371, TM372

Compact thermometer with self-calibration function
HART® communication

Short Instruction (KA)

01/21

Misura della temperatura e componenti di sistema per i settori alimentare e farmaceutico.

Misura della temperatura e componenti di sistema per i settori
alimentare e
farmaceutico.
La nuova frontiera dell'igiene: un'offerta complete per applicazioni
igieniche e asettiche

Medical autoclaves: Reducing risk in batch sterilization Self-calibrating temperature sensors increase process safety

Medical autoclaves and steam sterilizers rely on accurate,
precise and reliable temperature measurements to comply
with process requirements. New sensor technology automates
recalibrations to reduce risk between intervals and provide
audit-proof batch certification.

Self-calibrating RTD temperature sensor in UHT processes Increase process safety and product quality

In UHT processes the product is heated to above 135 °C to kill as many
microorganisms as possible with the aim to increase the shelf life of
the end product. Accurate and reliable temperature control is crucial
to avoid negative effects on the taste and product quality, making
periodic calibration of the installed temperature sensors necessary.
iTHERM TrustSens is the first self-calibrating compact thermometer
that calibrates automatically whenever the process temperature
drops below 118 °C (244.4 °F).

Self-calibrating temperature measurement technology improves process safety,regulatory compliance in pharmaceutical applications with continuous process verification

Inline self-calibrating thermometers such as the
iTHERM TrustSens TM371 can contribute to minimizing
the risk of incorrect measurements and improves
process safety, regulatory compliance (FDA) in
pharmaceutical applications with continuous process
verification (GMP). Automated documentation helps
effortlessly build a repeatable, traceable record database
for audits and regulatory authorities. The publication
takes a look at the physical mechanics and scientific
evidence behind the technology.

Un jalon important en mesure de température

La sonde iTHERM TrustSens est le premier capteur de température au monde
à
posséder une fonction d'autoétalonnage intégrée. Il a été testé dans
l'entreprise Walter
Rau Neusser Öl und Fett AG.

iTherm TrustSens TM371, TM372

Thermometer und Systemprodukte für die Branchen Food & Beverage
und Life Sciences

Data integrity based on ALCOA+ principles

In the context of the MemographM RSG45 Data Manager combined with Field Data Manager (FDM) analysis software.

Datenintegrität gemäß den ALCOA+ Prinzipien

Angewandt auf den Datenmanager Memograph M RSG45 in Kombination mit FDM

iTHERM TrustSens Calibration Monitoring

iTHERM TrustSens Calibration Monitoring
Equipment evaluation within the requirements of FDA Title 21, Code of
Federal RegulationsPart 11, latest revision (21 CFR Part 11)

New Belgium Brewing optimiert Kalibrierprozess

New Belgium Brewing optimiert Kalibrierprozess
Selbstkalibrierendes Thermometer spart enorm Aufwand

iTHERM TrustSens TM371, TM372

Weltweit erstes selbstkalibrierendes Thermometer

iTHERM TrustSens TM371, TM372

World's first self-calibrating thermometer

iTHERM TrustSens TM371, TM372

La primera sonda de temperature con autocalibración del mundo

iTHERM TrustSens TM371, TM372

Le premier capteur de température auto-étalonnable au monde

iTHERM TrustSens TM371, TM372

Il primo termometro al mondo con funzione di autotaratura

EDD Single, AMS12_0_HART_TrustSens_0x11CF_0x01_0x01, 22.11.2018 (Temperature, TrustSens, 0x11CF)

HART,

AMS Version: 12.0, 12.5, 13.0, 13.1, 13.5

Electronic Data Description (EDD)

1.00.00

EDD Single, FDM_HART_TE_TrustSens_0x11CF_0x01_0x01, 14.12.2017 (Temperature, TrustSens, 0x11CF)

HART,

Experion Version: R432.1

Field Device Manager Version: R450.1

Electronic Data Description (EDD)

1.00.00

EDD Single, AMS10_0_HART_TrustSens_0x11CF_0x01_0x01, 22.11.2018 (Temperature, TrustSens, 0x11CF)

HART,

AMS Version: 10.5, 11.0, 11.1, 11.5

Electronic Data Description (EDD)

1.00.00

EDD Single, PDM_HART_TE_TrustSens_0x11CF_0x01_0x01, 14.12.2017 (Temperature, TrustSens, 0x11CF)

HART,

PDM Version: 8.2.1, 9.0.1.2

Electronic Data Description (EDD)

1.00.00

DTM Single, TrustSens_HART_FW_1_00_zz_Dev_Rev_01, 27.10.2020 (Temperature, TrustSens, 0x11CF)

HART,

ArchestrA IDE Version: 4.0.04001

DeviceCare Version: 1.07.00

Field Device Manager Version: R450.1

Field Xpert - SMT70 Version: 1.05.00

FieldCare Version: 2.15.00

PACTware Version: 5.0 SP4

Plant Resource Manager Version: R3.31

Device Type Manager (DTM)

1.11.301.4871

Faceplate Single, PRM_HART_TE_TrustSens_0x11CF_0x01_0x01, 14.12.2017 (Temperature, TrustSens, 0x11C

HART,

Plant Resource Manager Version: R3.31

The iTHERM TrustSens TM371 and TM372 hygienic temperature transmitter isa revolutionary compact RTD thermometer capable of fullyautomated, traceable, inline self-calibration.

The iTHERM TrustSens hygienic temperature transmitter
is a revolutionary compact RTD thermometer capable of
fully automated, traceable, inline self-calibration. It reliably
eliminates the risks of non-conformities and undetected
measurement failures.

Process RTD Hygienic

产品型号: TM371-, TM372-
一致性声明编号: HE_01121_01.19
制造商规格: Performance characteristics

ACCESSORIES: BAR STOCK THERMOWELL, ACCESSORIES: PIPE THERMOWELL, ACCESSORIES: T_INSERTS, Magphant, Process RTD General purpose, Process RTD Hygienic, RTD-thermometer

产品型号: TT412-, TT411-, TT151-, TT131-, TS212-, TS111-, TMR35-, TM412-, TM411-, TM402-, TM401-, TM372-, TM371-, TM311-, TM131-, TM121-, TM111-, TM101-, TK40-, DTT35-, DTT31-
一致性声明编号: HE_01494_01.21
制造商规格: Food hygiene

ACCESSORIES: PIPE THERMOWELL, ACCESSORIES: T_INSERTS, Process RTD Hygienic, RTD-thermometer

产品型号: TK40-, TM371-, TM372-, TM401-, TM402-, TM411-, TM412-, TMR35-, TS111-, TS212-, TT411-, TT412-
一致性声明编号: HE_00886_01.17

ACCESSORIES: PIPE THERMOWELL, Magphant, Process RTD Hygienic, RTD-thermometer

产品型号: TTR35-, TM372-, TT412-, TT411-, TMR35-, TM412-, TM411-, TM402-, TM401-, TM371-, TM311-, TK40-, DTT35-
一致性声明编号: HE_00099_05.15
制造商规格: Food hygiene, 10/2011, 1935/2004

ACCESSORIES: PIPE THERMOWELL, Magphant, Process RTD Hygienic, RTD-thermometer

产品型号: TTR35-, TT412-, TT411-, TMR35-, TM412-, TM411-, TM402-, TM401-, TM372-, TM371-, TM311-, TK40-, DTT35-
一致性声明编号: HE_01097_01.19
制造商规格: Food hygiene

Process RTD Hygienic

产品型号: TM371-
一致性声明编号: HE_01260_01.20
制造商规格: RoHS

Process RTD Hygienic

产品型号: TM371-, TM372-
一致性声明编号: HE_01121_02.19
制造商规格: Performance characteristics

ACCESSORIES: PIPE THERMOWELL, Magphant, Process RTD Hygienic, RTD-thermometer

产品型号: TTR35-, TT412-, TT411-, TMR35-, TM412-, TM411-, TM402-, TM401-, TM372-, TM371-, TM311-, TK40-, DTT35-
一致性声明编号: FDA_00127_03.17

Process RTD Hygienic

产品型号: TM371-
证书号: EAEC N RU D-DE.AD07.B.00933_19

Process RTD Hygienic

产品型号: TM371-, TM372-
证书号: 3610-0013-17-B04

Process RTD Hygienic

产品型号: TM371-, TM372-
证书号: 3610-0013-17-B05

ACCESSORIES: PIPE THERMOWELL, Magphant, Process RTD Hygienic, RTD-thermometer

产品型号: TTR35-, TT412-, TT411-, TMR35-, TM412-, TM411-, TM402-, TM401-, TM372-, TM371-, TM311-, TK40-, TE411-, DTT35-, OTR35-, OTM311-, OTMR35-, ODTT35-
地区/国家: Canada, USA
认证机构: 3-A Sanitary Standards

ACCESSORIES: PIPE THERMOWELL, Magphant, Process RTD Hygienic, RTD-thermometer

产品型号: TTR35-, TM372-, TT412-, TT411-, TMR35-, TM412-, TM411-, TM402-, TM401-, TM371-, TM311-, TK40-, DTT35-
地区/国家: Europe
认证机构: TU München

Process RTD Hygienic

产品型号: TM371-
地区/国家: Russia
认证机构: Rosstandart
证书号: OC.C.32.004.A NO 74815

Process RTD Hygienic

产品型号: TM371-
地区/国家: Russia, Russia (GOST)
认证机构: Rosstandart
证书号: OC.C.32.004.A № 74815

Process RTD Hygienic

产品型号: TM371-, TM372-

Ordinary Location Product Safety
附件/备件
焊座

Flush mount process connection. Material: 316L. Inspection cert. EN10204-3.1 material Seal: silicone O-ring FDA, 3-A compliant. additional EPDM O-ring. FDA, EHEDG, 3-A, USP Class VI compliant. Usage: FMI51/FMI52, FTI51/FTI52, FTL20H, FTL31/FTL33, FTL41, FTL50/FTL50H, FTL51/FTL51B/FTL51C/FTL51H, FTL80/FTL81, FTL260, FTL330H/FTL330L, FTW23, FTW33, PMP135, PTP35, QMW43.

通讯接口 FXA291

Serial USB Computer Interface Technical Data: - USB Version1.1 or higher - Power supply via USB - IP51; NEMA/Typ 3 - Ambient temperature: -20....+60oC - Ex: II(2) G (EEx ia) II C - ATEX: BVS 05 ATEX E 095 Scope of deliovery: Commubox FXA 291 MS Windows USB driver Device is submitted for CSA/FM application. The device may not be modified and may be used with intrinsically safe circuits with corresponding characteristics only (see safety certificate).

FieldCare SFE500

FieldCare is a software tool based on FDT/DTM technology. FieldCare is scalable which allows to fulfill tasks from Device Setup, Plant Asset Management or Condition Monitoring (Asset Health Monitoring). FieldCare includes approved Endress+Hauser and third party DTM Libraries and can be used with W@M Life-Cycle Management. Additional hardware e.g. modems, or interfaces is needed. One year update service is included to guarantee top quality and performance. (Online application update or download from Endress+Hauser Software Portal)

Fieldgate FXA42

Compact gateway for data capture of field devices, without antenna. Embedded web server, alarm / event handling. Application: remote monitoring, inventroy data monitoring, web enabled field interface. Field device interfaces 4-20mA, Modbus RTU, digital inputs/outputs. :: Meets NAMUR NE43 requirements. :: Data transition into SupplyCare.

TrustSens TM371

Self-calibrating thermometer with optional thermowell for applications in the food/beverages and pharmaceutical industries. 100% compliance by 0% effort. Measuring range: -40...+160oC/ -40...+320oF ::Risk reduction and cost reduction through a fully automated inline self-calibration. ::Fully automatized and audit-proof documentation. ::No risk of undetected failures through Heartbeat monitoring.
德国DMK公司采用标准化温度测量

本视频介绍了位于德国Hohenwestedt/的 DMK 公司("Deutsches Milchkontor GmbH")如何通过采用卫生型温度仪表 iTHERM TM411,进行标准化温度测量,降低操作成本。