iTHERM TM402卫生型温度计(英制/美标)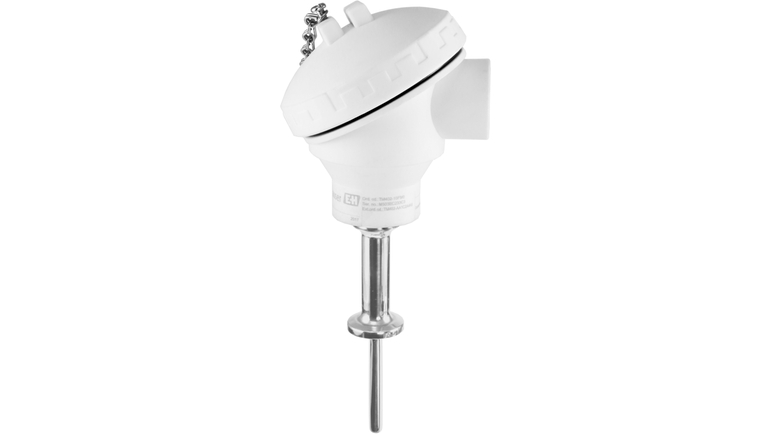 适用于食品与饮料、生命科学行业中的标准卫生和无菌应用场合
iTHERM温度计满足食品与饮料、生命科学行业的基本要求,具有最高性价比。提供多种规格的仪表。因此产品选型十分简单快捷,节省了时间和成本。基本型仪表带不可更换的固定铠装芯子,配备多种过程连接,通过国际认证,具有高性价比。
| FLEX产品选型 | 仪表技术性能 | 选型便捷程度 |
| --- | --- | --- |
| | 仪表技术性能 | 选型便捷程度 |
| | 仪表技术性能 | 选型便捷程度 |
| | 仪表技术性能 | 选型便捷程度 |
| | 仪表技术性能 | 选型便捷程度 |
产品规格参数

测量精度

class A acc. to IEC 60751

响应时间

depending on configuration

最大过程压力(静压)

at 20 °C: 40 bar (580 psi)

工作温度范围

PT100:
-50 °C … 200 °C
(-58 °F … 392 °F)

所需最大插入深度

up to 15.5" (317,5mm)
others on request
Loading alternative products
快速选择
从我们建议的选项中选择
个性化配置
从所有可用选项中继续选择
优势

高性价比,发货迅速

从产品选型到维护都十分用户友好且可靠

通过国际认证:符合卫生型标准(3-A®、EHEDG、ASME BPE、FDA),提供TSE适用性证书

配备多种过程连接
应用领域

专门针对食品与饮料、生命科学行业中的卫生和无菌应用场合设计

测量范围:–50...+200 °C (–8...+392 °F)

最大压力:40 bar (580 psi)

最高防护等级:IP69K

可以在非危险区中使用
文档/手册/软件
iTHERM TM402 Technical Information

Resistance thermometer for hygienic and aseptic applications

Modular hygienic thermometers

Universal modular thermometers with RTD insert for hygienic applications

Installation Instructions iTHERM TM402, TM412

Imperial hygienic RTD thermometer

iTHERM thermometers TM401, TM402, TM411, TM412

Modular iTHERM thermometers with hygienic design
for the Food & Beverage and Life Sciences industries

iTHERM Thermometer TM401, TM402, TM411, TM412

Modulare iTHERM Thermometer im hygienegerechten Design für die
Lebensmittel- und pharmazeutische Industrie

iTHERM® TM411

Новое поколение термометров для пищевой и фармацевтической
промышленности

iTHERM® TM401, TM402, TM411, TM412

Sondes de température modulaires hygiéniques iTHERM® dédiées aux
industries agroalimentaires et pharmaceutiques

ACCESSORIES: PIPE THERMOWELL, ACCESSORIES: T_INSERTS, Process RTD Hygienic, RTD-thermometer

产品型号: TK40-, TM371-, TM372-, TM401-, TM402-, TM411-, TM412-, TMR35-, TS111-, TS212-, TT411-, TT412-
一致性声明编号: HE_00886_01.17

Process RTD Hygienic

产品型号: TM402-
一致性声明编号: HE_01262_01.20
制造商规格: RoHS

ACCESSORIES: PIPE THERMOWELL, ACCESSORIES: T_INSERTS, Process RTD Hygienic, RTD-thermometer

产品型号: TK40-, TM371-, TM372-, TM401-, TM402-, TM411-, TM412-, TMR35-, TS111-, TS212-, TT411-, TT412-
一致性声明编号: HE_00886_02.17

Process RTD Hygienic

产品型号: TK40-, TM401-, TM402-, TM411-, TM412-, TS111-, TS112-, TT411-, TT412-
一致性声明编号: MD-12028A-9

ACCESSORIES: PIPE THERMOWELL, Magphant, Process RTD Hygienic, RTD-thermometer

产品型号: TTR35-, TT412-, TT411-, TMR35-, TM412-, TM411-, TM402-, TM401-, TM372-, TM371-, TM311-, TK40-, DTT35-
一致性声明编号: HE_00099_05.15
制造商规格: Food hygiene, 10/2011, 1935/2004

ACCESSORIES: PIPE THERMOWELL, Magphant, Process RTD Hygienic, RTD-thermometer

产品型号: TTR35-, TT412-, TT411-, TMR35-, TM412-, TM411-, TM402-, TM401-, TM372-, TM371-, TM311-, TK40-, DTT35-
一致性声明编号: HE_01097_01.19
制造商规格: Food hygiene

ACCESSORIES: PIPE THERMOWELL, Magphant, Process RTD Hygienic, RTD-thermometer

产品型号: TTR35-, TT412-, TT411-, TMR35-, TM412-, TM411-, TM402-, TM401-, TM372-, TM371-, TM311-, TK40-, DTT35-
一致性声明编号: FDA_00127_03.17

Process TC Heavy duty, Process TC General purpose, Process TC Direct contact, Process RTD Hygienic, Process RTD Heavy duty, Process RTD General purpose, Process RTD Direct contact, Low cost RTD General purpose

产品型号: TM412-, TR10-, TR11-, TR12-, TR13-, TR15-, TR24-, TR25-, TR44-, TR45-, TR46-, TR47-, TR48-, TR61-, TR62-, TR63-, TR65-, TR66-, TR88-, TST40N-, TST41N-, TST434-, TM411-, TAF11-, TAF12D-, TAF12S-, TAF12T-, TAF16-, TC10-, TC12-, TC13-, TC15-, TC61-, TC62-, TC63-, TC65-, TC66-, TC88-, TEC420-, TM101-, TM111-, TM121-, TM131-, TM401-, TM402-
一致性声明编号: EC_00136_02.16

ACCESSORIES: PIPE THERMOWELL, Magphant, Process RTD Hygienic, RTD-thermometer

产品型号: TTR35-, TT412-, TT411-, TMR35-, TM412-, TM411-, TM402-, TM401-, TM372-, TM371-, TM311-, TK40-, DTT35-
地区/国家: Europe
认证机构: TU München

ACCESSORIES: PIPE THERMOWELL, Magphant, Process RTD Hygienic, RTD-thermometer

产品型号: TTR35-, TT412-, TT411-, TMR35-, TM412-, TM411-, TM402-, TM401-, TM372-, TM371-, TM311-, TK40-, TE411-, DTT35-, OTR35-, OTM311-, OTMR35-, ODTT35-
地区/国家: Canada, USA
认证机构: 3-A Sanitary Standards
附件/备件
焊座

Flush mount process connection. Material: 316L. Inspection cert. EN10204-3.1 material Seal: silicone O-ring FDA, EHEDG, 3-A compliant. Usage: FMI51/FMI52, FTI51/FTI52, FTL20H, FTL31/FTL33, FTL41, FTL50/FTL50H, FTL51/FTL51B/FTL51C/FTL51H, FTL80/FTL81, FTL260, FTL330H/FTL330L, FTW23, FTW33, PMP135, PTP35, QMW43.

通讯接口 FXA291

Serial USB Computer Interface Technical Data: - USB Version1.1 or higher - Power supply via USB - IP51; NEMA/Typ 3 - Ambient temperature: -20....+60oC - Ex: II(2) G (EEx ia) II C - ATEX: BVS 05 ATEX E 095 Scope of deliovery: Commubox FXA 291 MS Windows USB driver Device is submitted for CSA/FM application. The device may not be modified and may be used with intrinsically safe circuits with corresponding characteristics only (see safety certificate).

Terminal Head TA30A

Retainer for terminal block or head transmitter + optional display. Cover: low, hinged, optional window. Material: aluminium. Coating: polyester powder-coating. Colour: body blue, cover grey. Ambient temp.: -50...150 oC (housing). Protection: IP66/68, NEMA 4X (housing).

iTEMP TMT82, Transmitter HART

2-wire temperature transmitter. Dual universal sensor input. Galvanic isolation 2kV (input/output). Application: RTD, TC, Ohm and mV. ::Highly reliable due to drift detection and sensor back up. ::Optional also for safety critical applications by means of SIL 2/3 acc. to IEC61508.

FieldCare SFE500

FieldCare is a software tool based on FDT/DTM technology. FieldCare is scalable which allows to fulfill tasks from Device Setup, Plant Asset Management or Condition Monitoring (Asset Health Monitoring). FieldCare includes approved Endress+Hauser and third party DTM Libraries and can be used with W@M Life-Cycle Management. Additional hardware e.g. modems, or interfaces is needed. One year update service is included to guarantee top quality and performance. (Online application update or download from Endress+Hauser Software Portal)

Fieldgate FXA42

Compact gateway for data capture of field devices, without antenna. Embedded web server, alarm / event handling. Application: remote monitoring, inventroy data monitoring, web enabled field interface. Field device interfaces 4-20mA, Modbus RTU, digital inputs/outputs. :: Meets NAMUR NE43 requirements. :: Data transition into SupplyCare.

Terminal Head TA30R

Retainer for terminal block or head transmitter + optional display. Cover: screwed, optional window. Material: Stainless Steel 316L. Colour: Steel (no coating). Ambient Temp.: -50...85/130 oC (display/standard). Protection: IP66/68, NEMA4X; IP69K (housing). :: easy wiring through best accessibility. :: compact desing and low weight.